Max Hunt - Adventurer and family man
Hauke Bruhn's resume holds many titles: fishery officer, trucker, self-employed, carpenter. But today, under the alias Max Hunt, he travels the world in his truck and documents it with video for tens of thousands of enthusiastic followers
19/07/2022 00:00:00
It wasn't a matter of course that Hauke Bruhn became a trucker and famous YouTuber. His resume includes titles such as fishery officer, carpenter, self-employed and hunter. In the end, however, it was the trucker life that won Hauke's heart. Today, under the alias Max Hunt, he travels the world in his truck and documents it with video for tens of thousands of enthusiastic followers. In his impressive new Scania 8x8 with HMF crane, he is now getting ready for the next big adventure. How did Max Hunt come to be, and what does the next adventure hold?
"How did I become a trucker? Well, I suppose the story is the same as so many other truckers': my father and brothers drove trucks, so I've always known the profession and the lifestyle," Hauke Bruhn answers.
But even though he got acquainted with the lifestyle at an early age, Hauke had to try out a number of other professions before fate brought him back to the truck. The first stop was the Army:
"After I'm finished as a sergeant in the Royal Life Guards, I don't really know what I want to do. So, I become a truck driver at a builder's merchant back home in Southern Denmark. In a 3-axle boogie truck fitted with an HMF crane I transport roof tiles and bricks to old East Berlin, where the wall had just fallen, and new houses were to be built. This is my first contact with driving a truck myself - and my first contact with HMF."
After a few years, Hauke swapped the highway for the Baltic Sea when he became a fishery officer at the Fisheries Control Agency (Fiskerikontrollen).
"Here I sailed 10 days and had 20 days off a month. But with my energy level, I quickly got bored. So, I took an apprenticeship as a carpenter in my 20 days off and ended up starting my own carpentry business. At the end we had 54 employees."

Left the past behind
"In the carpentry business all was hurry and confusion and I almost collapsed from stress. So, I wake up one morning and decide to sell the entire business. I buy an old Land Rover and leave my wife and kids."
"Everything is going so fast, and I need a change of air and time to think. So, I take my car and drive through Ukraine and Russia to Kyrgyzstan."
Hauke quickly finds that being an adventurer on wheels has something to it.
"I find out that I want more of this – of adventure. I realize that it's not the destination of a journey that matters - it's the journey in itself that's exciting."
At the same time, he rediscovers the joy of the culture and togetherness in the trucker community.
"There's just something special about driving a truck. You feel a responsibility and proudness when you're driving a 56 tonnes vehicle. And then I love the 'cult' and togetherness around the community. We're always helping each other out on the roads. That's what I like about this world."
In fact, the Danish TV-channel, TV2, made a show about Hauke's break with his former life - house, wife and two children - under the title "Max adventure hunt".
"This programme was great. But I also missed telling my story in my own way. I felt that the way they had filmed my journey was not quite the way I had experienced it. I needed to film the things I see."
And Hauke was going to do just that in due time.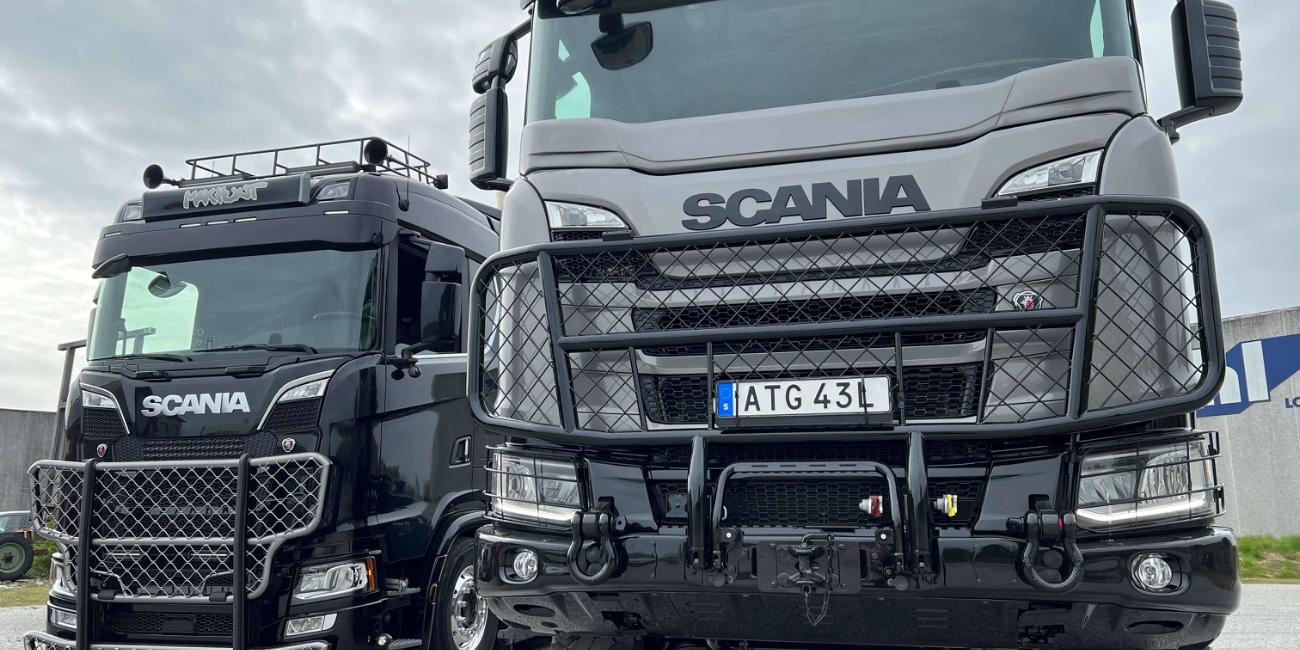 Max Hunt was born at a Las Vegas hunting show
Hauke is a man with many talents and hobbies. Besides his acquaintance with the fishing, driving, and carpentry businesses, he is also a dedicated hunter. And at the world's largest hunting show in Las Vegas, the seeds to yet another interest are planted: video storytelling.
"Me and a buddy are sitting at this burger bar in Vegas, and we suddenly spot Michael Waddell - a giant hunting icon. He can hear we have a foreign accent and suddenly asks where we're from. Right there, we get a little starstruck."
But a little amazement isn't enough to topple Hauke Bruhn. He answers confidently: "We are from Denmark. And who are you?"
"He's about to fall off his chair. "Don't you know who I am?" he asks. Then it just slipped out of my mouth: " Easy now, you don't know me either. I'm Max Hunt - the biggest in Europe. Everyone knows who I am." He shouldn't think too highly of himself," Hauke says laughing.
"The next few days we went with Michael Waddell to parties, and he introduced me to a lot of sponsors. So, I ended up leaving Vegas with a ton of sponsors for Max Hunt."
One minor detail was that Max Hunt didn't even exist! But of course, that could be arranged. So, when Hauke came back to Denmark, he bought the domain name Max Hunt, which luckily was available. With his new brand, Hauke started a website where other dedicated hunters could share their hunting stories.
"The problem was that many of my followers thought it was Max Hunt, me, who was sharing all these stories. That wasn't the point at all. But then I thought to myself: "If that's what you want, then you're gonna get it."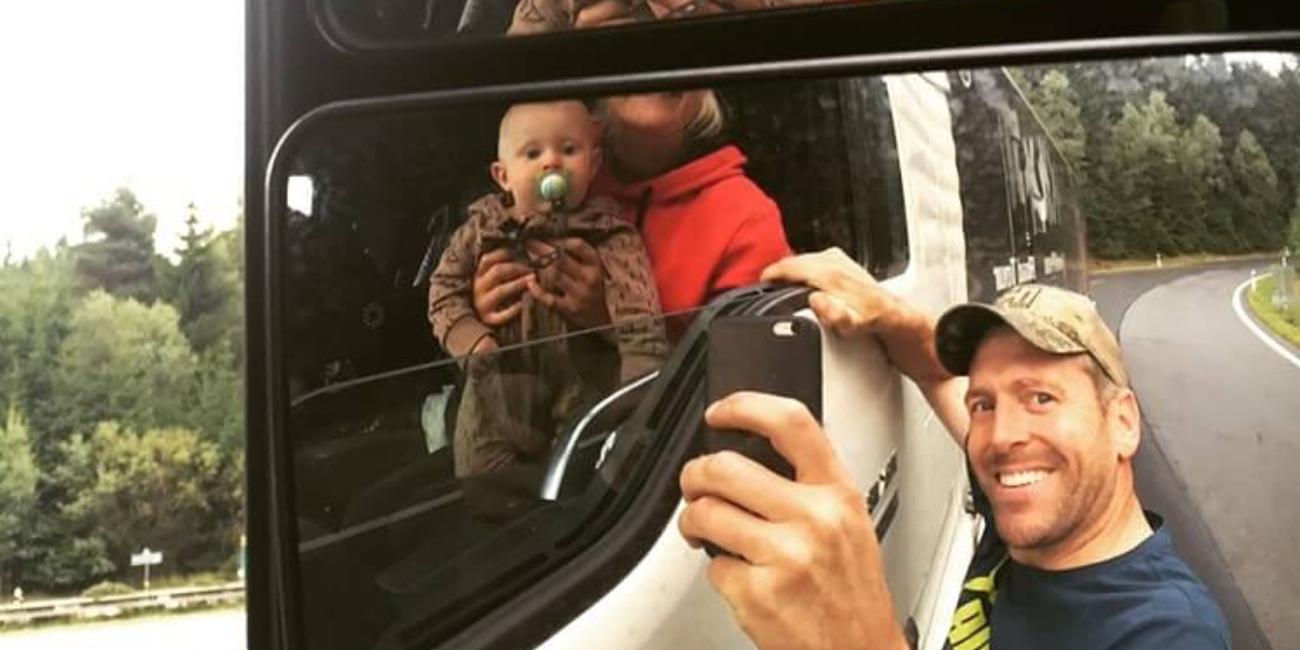 A first date in Istanbul
Hauke decided to make the brand "Max Hunt" into what his followers wanted: He started filming his own hunting stories and sharing them online. But over time, he came to miss the road and the adventure that comes with it.
"At a hunting fair in Sweden, I meet Ragnhild, my current wife, who was living in Africa at the time. We exchange email addresses and become old fashioned pen pals. At one point I ask her out on a date. So, we both fly to Istanbul, me from Denmark and Ragnhild from Africa, and meet there at the gate for our first date."
The date must have gone well because afterwards Hauke and Ragnhild flew to Kyrgyzstan, where the Land Rover still was. Then the two of them drove around for three weeks up in the mountains. "And then I guess we fell in love," Hauke says with a smile.
"Between Christmas and New Year that year, I spontaneously flew down to see her in Africa, and then we drove around for a month and a half in the south of Africa - through Mozambique, Zimbabwe and Namibia. At the end of the trip, I ask her: 'Will you travel the world with me?'"
The answer was yes, and Ragnhild quit her job, after which the couple went to Hamburg together. Here they bought a Land Rover Defender, which they prepared for their journey while living in a small rental trailer in an auto workshop.
"Then we set off for the North Cape, and here Ragnhild tells me she's pregnant! I never thought I would have children again, because I didn't think I had been a very good father. But I had a good gut feeling and ask Ragnhild: "Well, what do we do now?" and she simply answers: "Well, we have a plan, don't we? We're going around the world!"
And off the couple went. Without telling family or friends about the new life that was growing in Ragnhild's belly.
"Ragnhild slept in a tent for 8 months through her pregnancy while we drove across Russia. You should have seen her parents' faces when we got home and Ragnhild was 8 months pregnant!"

Next stop: the rest of the world
Little Arn was born in Södertälje, "right next to the Scania factory," as Hauke says with a laugh. This became the inspiration for what became the next chapter for Hauke, Ragnhild and now little Arn.
"I get the idea that we should buy a used truck and drive around the world. Ragnhild agrees. So I go back to Denmark, buy an old, refrigerated container and rebuild it with a bathroom, stove, kitchen and everything. Then we're ready to go around the world!"
Hauke realized that people were interested in following him and the family as they were now driving around in their MAN truck with HMF's 4020 crane. So, he started making small videos about the family's life on the road. That's how Max Hunt became the person we know today.
Since then, the MAN has been replaced by a SCANIA, which was the brand that originally sparked the idea for life on the road when Arn was born.
The trucks have already transported the family around most of Europe, and currently their tractor unit and refrigerated container are touring the USA for 7 weeks.
"I never have a plan for what I'm going to film for my followers. I just stop when I see or experience something cool, and then I document it. That's what's great about the job I have: I get to tell my stories exactly as I experience them. In that way, it's also a kind of video diary for myself and my family."
Soon it will be time for a new "monster" to transport the family, who now also includes the son Eirik, on adventures. At the time of writing, Hauke's new Scania R 500 8x8 - again with an HMF crane - is being installed and painted.
"Our old 8x8 was awesome. But this one is a level up. It's unique, has 500 horsepower and is a real monster on the road. Especially when you go where other trucks give up," Hauke says with clear excitement.
The new truck will be 100 percent pimped and custom-designed. It will be "one of a kind". The marvel will be on display for the first time at the Elmia fair in Sweden from 24th-27th August and will then travel to the IAA Trade Fair in Hanover, where it will be on display at HMF's stand. After that, it is time for yet another adventure.
"In January, I will take the new truck to the original Paris - Dakar race and follow the rally and the drivers 'behind the scenes'. It's going to be wild. Afterwards, it will be a family trip, where we travel through Morocco to enjoy the people, the nature and, not least, the culture."
Hauke will document and share both with his interested followers. On the trip, the family will live in the container, which Hauke has converted and furnished himself. Thanks to the HMF crane, the family can put the "house" down wherever they want to settle down. This way, they can use the truck for other work, challenges or tasks that make it impossible to have the "snail shell" with them.
"After Morocco, the plan is to take one continent a year. So South America and Australia can expect a visit," the Danish viking says at the end.
Visit Max Hunt at the Elmia fair and follow his adventures on Facebook or YouTube.